DURGA PUJA
Contents
Introduction
The Period of Celebration
Celebration in Different States

West Bengal
Assam
Bihar
Gujarat
Kerala
Madhya Pradesh

Mode of Celebration
Popular Legends
Shloka explaining the Importance of Festival
Arti of Durga Puja Festival
Pictures
References
Introduction
Durga Puja is one of the most significant amongst all Indian festivals. It is particularly the prime festival of West Bengal. Durga Puja refers to all the six days observed as Mahalaya, Shashti, MahaSaptami, MahaAshtami, MahaNavami and Vijayadashami.
The festival involves the worship of Shakti i.e. goddess Durga. Legend has it that Shakti or goddess Durga destroyed Mahishasura, a dreaded demon also known as the Buffalo Demon. Through years of intense prayers and worship, Mahishasura had got a boon from Lord Brahma that no power could kill him, thus making him invincible. However, Mahishasura was killed after a fierce fight between goddess Durga and the dreaded demon for nine days and nights.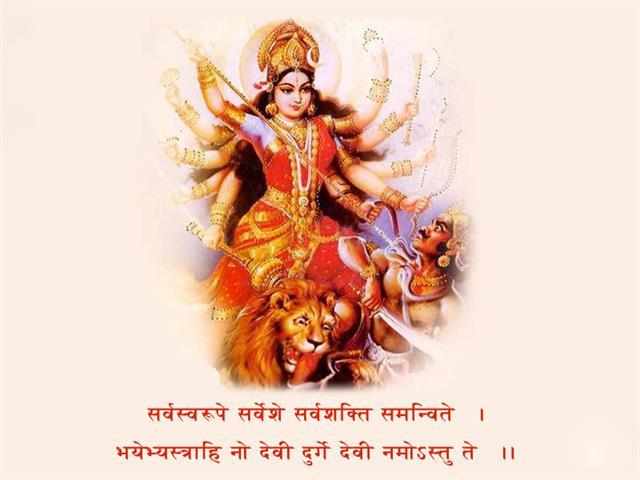 The Period of Celebration
This festival is dedicated to goddess Durga. The power of Maa Durga (mother goddess) is perhaps the greatest amongst all and she is propitiated by other gods and goddess as well. Maa Durga is worshipped all over India with the same ardor under different names and manifestations. The most benign face of the goddess is Durga.
Durga Puja is celebrated in the month of September/October every year. The puja is performed at the beginning of winter, sometime during September/October in the month of Kartik. In many parts of the country, Durga Puja is performed during the nine nights of the moonlit fortnight, and these are known as Navaratris. The Puja starts on the day (Parva) of the moonlit fortnight. It is generally celebrated for nine days while the tenth day is Dussehra.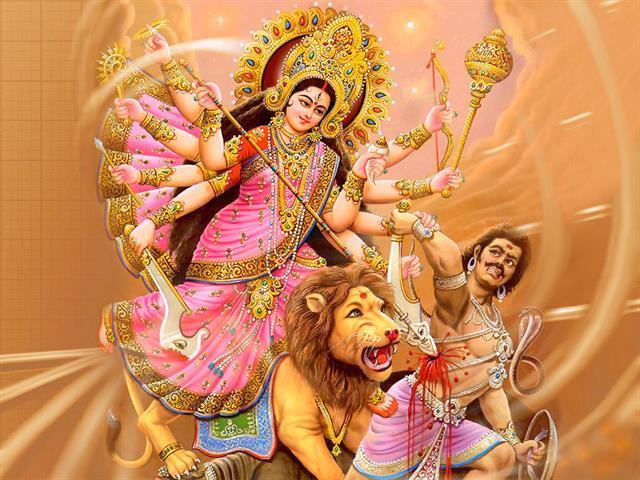 Celebration in Different States
This festival is celebrated with great pomp and show. It is a major Hindu festival celebrated across India with diverse rituals and carnivals particularly in the eastern region encompassing the states of West Bengal, Orissa, Bihar, Jharkhand, Assam, and Tripura. Along with major East Indian states of India, Durga Puja is also celebrated in Maharashtra, Gujarat, Punjab, Delhi, Uttar Pradesh, Kashmir, Karnataka and Kerala.
West Bengal
In West Bengal, which has majority of Bengali Hindus, it is the biggest festival of the year. Beautifully decorated images of goddess Durga are worshipped in specially erected Puja pandals. The traditional image of Bengali Durga is based on the description given in Hindu Shastras. In fact the seventh century Durga of Aihole and Mahabalipuram have uncanny resemblance with the modern day Durga idol. Simultaneously, worshiping the goddess along with her four children - Kartik, Ganesh, Saraswati and Lakshmi - symbolically define propitiation of various virtues.
Durga Puja in West Bengal is also a festival of social integrity where people from various communities converge for attaining prayers in puja pandals. Food, clothing and entertainment also take front seat during the festival. Puja pandals (canopy) are organized in almost every neighborhood and cultural events, dramas, singing and dance shows are held every evening. On the last day i.e. Dasara elaborate processions take place and people celebrate the immersion ceremony of the goddess.
As per the earlier records, it was during late 1500s when the first grand celebration of goddess Durga took place. It was during the time of landlords or zamindar the initial Durga Puja worship began to take place. The zamindar of Dinajpur and Malda set off the first Durga Puja in Bengal on a grand platform. On the other hand, the first Sharadiya or Autumn Durga Puja in Bengal was commenced under the helm of Raja Kangshanarayan of Taherpur or Bhabananda Mazumdar of Nadiya in the year of 1606.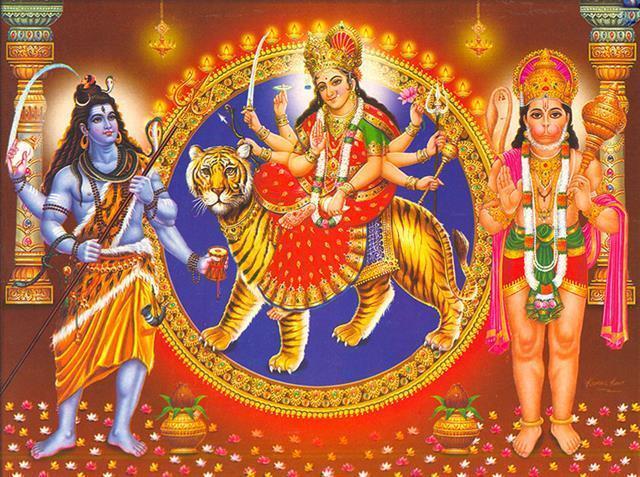 Assam
In Assam, Silchar is the place where the celebration of Durga puja is worth attaining. The traditional Assam crafts along with other regional art forms are explored in over 300 canopies dispersed in various parts of Silchar. Though Bihu is a prime festival of Assam, Durga Puja is celebrated with almost equal enthusiasm in the state. The renowned historian Late Benudhar Sarma confirms that it was during the supremacy of Ahom King Susenghphaaor Pratap Singha that the worship of Durga in the form of earthen idol started taking place. The historian also reveals that King Pratap Singha first heard from one of his captives named Sondar Gohain, how King Naranarayan of Koch Bihar celebrated the Durga Puja festival, before he started following the same in his own kingdom. King Naranarayan of Koch Bihar then sent his craftsmen to Koch Bihar to fine-tune the idol making skills after which the king organized the first Durga Puja in Bhatiapara near Sibsagar. After this occasion, the celebrations of Durga Puja with earthen idols began taking place. Prior to this, the worship us to take place only in Durga temples like Kamakhya, Digheswari Temple, Maha Bhairabi Temple, Ugrotara, Tamreswari Mandir, etc.
In the present age, Durga Puja is mostly a community festival celebrated in cities, towns and villages of Assam with great festivity and religious fervor for five days.
Bihar
Durga Puja in Bihar is feted in hundreds of different pandals and carnivals all across the state and is considered a major festival in Bihar. Hundreds of pandals are set up with carnivals. Major Durga Puja celebrations in Patna take place in the areas of Bari and Chhoti Patan Devi, Maa Shitla Mandir, Agamkuan etc. A huge gathering takes place at the canopies of Shri Krishna Puri, Shiv Mandir Khajpura, New Dak Bunglow Road, and Durga Ashram.
Gujarat
Navaratri is devoted to Amba Mataji in Gujarat. In some homes, images of Mataji are worshiped in accordance with the accepted practice. Since morning till evening, the temples of different goddesses are crowded with devotees, while after the evening the crowd diverts towards garba and dandia dance carnivals. The presentation of garba and dandia-ras/ras-garba are the most common forms of celebrations in Gujarat. The dance carnivals goes on till mid-night or wee hours of the morning throughout the nine days in public squares, open grounds and streets.
Kerala
In Kerala, Durga Puja signifies Vidyarambham (beginning of formal education) for children within 3 to 5 years. Goddess Saraswati is the principal deity to be worshiped here and the last three days are extensively dedicated to her worship. The rituals followed are quite different from the rest of North India. All home appliances are worshiped during Ayudh Puja which takes place on Ashtami. People completely do away with using home appliances on this day. On the day of Navami, people worship books and other instruments of erudition (pen, notebook etc.) to seek higher wisdom in life. Visiting Saraswati temple in Kottayam during this time is considered highly auspicious and beneficial; people come in thousands to seek blessings of the goddess of knowledge and wisdom.
A large assemblage of devotees is also witnessed at the famous Thekkegram (Palghat), in which there are no idols, only huge mirrors. Upon visiting the temple and paying obeisance to the goddess one would find himself bowing before his own reflection; this represents that the real abode of the Lord is within all of us.
Thrikkavu Temple, a legendary Durga Devi Temple at Ponnani in the Malapuram District of Kerala, is also famous for Navaratri festival and Vidyarambham (beginning of formal education). Thousands of children throng this temple on Vijayadasami(Dussehra) for Vidyarambham.
Santhanantha Matom at Mangadu in Kollam observes Navaratri festival with all the religious purity and rituals. Here, on the tenth day, Vijayadasami (Dussehra) is observed as Vidyarambham when children are initiated, not just into formal education but also into various arts and music.
Madhya Pradesh
In the state of Madhya Pradesh most Hindu festivals are celebrated with vigor and enthusiasm. Durga Puja is celebrated in almost all towns and cities across the state. Here, the devotees of Durga fast for nine days and worship Lord Rama during Dussehra. Festivities begin with the installation of the idols of Durga on the first day of Winter Navaratri and culminate on the Vijayadasami Day (Dussehra), celebrated with the burning of the effigies of Ravana.
During this ten day festival, the cities and towns are decorated with pandals and cultural events are organized in every nook and corner. In fact in Madhya Pradesh one can find a blend of all cultures of India which justifies its name Madhya (Central) Pradesh (Province).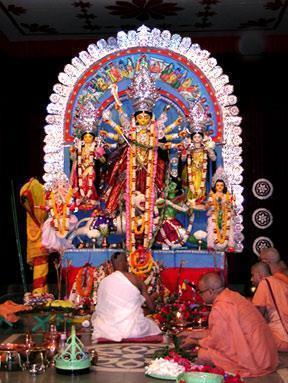 Mode of Celebration
During the Kartik festival, enormous pandals are raised and skillfully decorated with images of goddess Durga in her several moods. Almost every neighborhood participates in the event. Larger than life images of the goddess are decked up with clothes and jewelry. Heartfelt kirtans and bhajans are organized every evening in pandals.
Preparations
All images made of metal are cleaned and new clothes like lehanga and chunni with gota and kinari are draped on the images of the goddess and the other deities like Ganesh, who is to be worshipped before offering worship to any other god. The worship of the deity is done by sprinkling water, aipun, roli, rice, flowers as in all pujas. Bhog is sung while offering prasad to the goddess.
Puja
Puja is genrelly performed since the first day (Parva) till the eighth day (Ashtami). However, at some places, the puja is also performed on Navami i.e. the ninth day.
Prasad
Prasad, consisting of puri, black chana and a sweet, like jalebi or halwa, is distributed to everyone.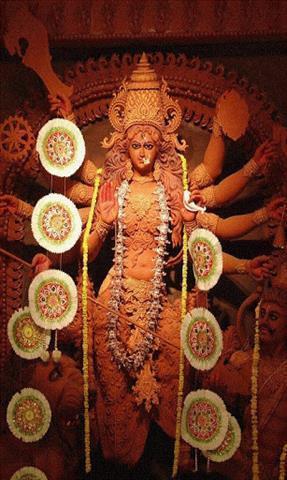 Popular Legends
Lord Rama went to Lanka to rescue his wife Sita who was earlier abducted by the demon king Ravana. A fierce battle ensued between the two sides. But, Ravana was a blessed Brahmin who could not be defeated at any cost. Hence, Lord Ram decided to seek the blessings of Shakti (goddess Durga) in order to defeat the demon. It is said that Lord Rama had performed a 'Chandi Sacrifice' to invoke goddess Durga during Navaratri and because of her blessings Rama won the war against Ravana.
As per the legend, 108 blue lotuses were needed for Chandi Sacrifice but Lord Rama could manage only 107.In order to complete the puja, Rama was on the verge of laying his blue-colored lotus shaped eye at the goddess's feet. Extremely pleased with his devotion, goddess Durga appeared and conferred upon him her blessings and eventually he won the battle against Ravana. In commemoration of this event, Durga Puja began to get celebrated from then on.
Another legend, linked to the celebration of Durga Puja, is the tale of the defeat of the demon Mahishasura over goddess Durga, the incarnation of Shakti (the power). Mahishasura, the Buffalo Demon, through years of praying, received blessing from Lord Brahma, that no man could ever defeat him. But once receiving the boon he started devastating the whole world and killing people. And finally he wanted to uproot the gods and goddesses too. The gods and goddesses, in dismay, united their powers and created a gorgeous maiden, and each of them located his or her most effective weapon in one of her ten hands. She killed the demon king and thus began to be called Mahishasuramardini. The holy battle represents the victory of good over evil. However, according to another legend about Durga, she is a manifestation of Parvati, Shiva's wife.
Shloka explaining the Importance of Festival
SadaBhawanidahiney, sanmukhrahen Ganesh,
panchonDevrakshakaren, Brahma,
Vishnu, Mahesh, Bolo atalchhattrakijai.
DurgaShloka
Ya Devi sarvabhuteshu Matrirupenasamsthita
Ya Devi sarvabhuteshu Shakti rupenasamsthita
Ya Devi sarvabhutesu Shanti rupenasamsthita
Namestasyai Namestasyai Namestasyai NamohNamah
Translation
The goddess who is omnipresent as the personification of universal mother
The goddess who is omnipresent as the embodiment of power
The goddess who is omnipresent as the symbol of peace
I bow to her, I bow to her, I bow to her
Pictures
Institution: Indian SCriptures
References
Published On: 14-12-2013
(Book/s):
Indian Festival History – Durga
Om LataBahadur 1994, The Book of Hindu Festivals and Ceremonies published by UBS Publishers' Distributors Ltd.
Tags:
Durga Puja,
Durga Puja in West Bengal,
Arti of Durga Puja Festival,
Durga Puja celebrations,
festival,
Durga,
puja,
goddess,
pradesh,
Dussehra,
Bihar,
pandals,
Assam,
devi,
brahma,
carnivals,
gujarat,
Kerala,
Mahishasura,
maolekiarti,
legend,
Shakti,
Ravana,
celebrated,
Bengal,
demon
View/s:
3974
Comment/s:
0