The history of Painting in Karnataka can be traced back to the earliest man belonging to the Megalithic Age in the 1st Millenium B.C. These primitive paintings adorned the walls of caves and were mostly animal figures. Slowly as time went by, paintings and murals began to appear on the walls of temples, palaces, caves, on pottery and other articles. The Chalukya rulers promoted painting as an art form and during their reign, several murals were etched out on walls and ceilings of temples, palaces and mansions during the 6th century. Cave painting was also prevalent as is evident from the murals seen in Badami. These paintings were influenced by early Buddhist thought and philosophy. A period of lull followed after the magnificent Badami era. It was left to the Vijayanagara dynasty to take up patronage of the arts particularly painting in a big way in the 15th -16th centuries. Based on the style, type and influences, paintings from Karnataka can be classified as murals, illustrated manuscripts and miniatures. Religion forms a recurring theme in the paintings of Karnataka.
Murals
The Chalukya kings patronized the painting of murals and this can be seen in Badami. These are on Lord Vishnu and are similar to the ones seen in Ajanta and Ellora Caves. Unfortunately many are now in a state of decay. Murals refer to paintings done on ceilings, caves, walls of temples, palaces and prominent mansions. Ellora Caves provide wonderful examples for this art form. Temples provided an ideal place for the artistes to display their talent in public. The Lepakshi Temple built during the reign of the Vijayanagara kings provides an excellent example for murals. The high ceiling and the vimana are all dotted with them. The ceiling of the sanctum of this temple is decorated with a large painting hailed as Asia's largest mural. It is a painting of Veerabhadra and measures about 23 feet by 13 feet. Various incarnations of Vishnu are also depicted inside the Temple.
Krishnadevaraya, doyen among the Vijayanagara kings, built a grand mantapa in front of the Virupaksha Temple and adorned it with murals. These depict Lord Shiva as Tripurantaka along with scenes from the Mahabharata as also the avatars of Vishnu. Murals were also commissioned during the reign of the Bahmani and Adilshahi Sultans. These murals belonging to the 17th century can be seen in the Jamia Mosquer and Asar Mahal in Bijapur. The artists during this period were influenced by their European counterparts and this is clear in their work. Murals can also be seen in some of the prominent mansions in Athani, Naragunda, Gadagu and Nippaani, as also at a Jain Mutt in Shravanabelagola.
Illustrated Manuscripts
These refer to paintings done on materials like palm leaf, wooden panels, cloth and paper. Many of them have been destroyed by ravages of time and place as they were transported from their original place of creation. Earliest manuscripts were all written on palm leaves. The advent of Moslem rulers brought the use of handmade paper. Paintings on paper gained prominence in the courts of Bijapur and Ahmednagar.
The Dhavala manuscripts which are nearly 800 years old were preserved at Mudbidri. Originally in Prakrit, they were later translated to Kannada. They contain beautiful illustrations and form part of Jain scriptures. They contain the teachings of Mahavira. These manuscripts are illustrated with fine figures of yakshas, yakshinis, tirthankars, kings, queens and noblemen.
Miniature Paintings
The Muslim rulers of Bijapur helped in developing the art of miniature paintings and most of these were created during the rule of Adil Shah dynasty.
Surpur miniature art
This art form was brought to Karnataka by the artists belonging to the Garudadri family when they migrated from Andhra Pradesh to Surpur in Yadgir district. It flourished under the patronage of Raja Venkatappa Naik during 1773 to 1858. Mythology formed the major subject of these paintings. Presently these paintings can be seen at Jagan Mohan Palace in Mysore.
During the Mughal period, quite a bit of Mughal influence was visible in the miniatures and paintings. Likewise, the Vijayanagara dynasty patronized the Lepakshi style paintings and later the Wodeyars promoted and encouraged the now famous Mysore style of painting. At first glance, this appears very similar to Tanjore paintings but trained artists can decipher major differences. Even to this day arts institutions such as Jaganmohan Art Gallery, Venkatappa Art Gallery and Chitrakala Parishad are actively promoting the Mysore style of painting. The Chamarajendra Technological Institute in Mysore is well known for its training courses in Mysore painting style.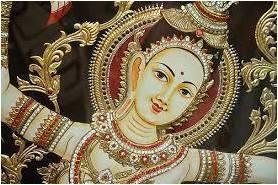 Mysore Painting
Yet another very unique painting from this region is called Chittara. Very specific to a particular Deevaru community, who are agriculturalists from Sagar in the Malnadu region of Karnataka, Chittara drawings are aesthetic but have very intricate patterns and are predominantly done by women only. Very similar to Warli art, the Chittara folk art is an expression of the socio-cultural and religious mores of the community.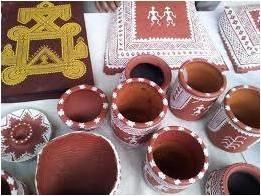 Chittara Rural Art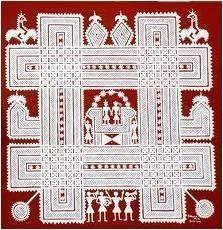 Chittara Art